Hyperborea by Nichola Koshkosh

Personal Online Exhibition Using Augmented Reality Effects For Instagram Stories. Visit the exhibition using AR effects on Instagram @nicholaskoshkosh
03/06/2020 - 04/08/2020
"Neither by ship nor on foot would you find the marvellous road to the assembly of the Hyperboreans [...]" – Pindar (518-438 BC)

Nichola Koshkosh is proud to present his first fully online solo exhibition - Hyperborea - accessible via Instagram augmented reality filters, showing the installation of 15 new paintings, most of them created during the Covid lockdown in Moscow, and spread within three different augmented reality rooms, pioneering the Instagram AR exhibition format.

Hyperborea was an imaginary land far in time and space, known since the ancient times of the classical Greek poet Pindar: a land symbolizing the idea of a perfect place where the winds of the North were not blowing, and its people were a blessed, long-lived race untouched by war and the ravages of old age or disease. During the lockdown, Koshkosh found himself confined within the limited space of his studio, deprived of freedom and surrounded by a gloomy atmosphere outside: it was then that he got fascinated with the legendary tales of Hyperborea, giving to his fantasy a fascinating escape from the suffocating reality of the present.

The compositions in Koshkosh's paintings are conveyed entirely through the placement of figures and the elements of his hidden vocabulary - such as crosses, smileys, birds, spiders, snakes and stars - in the changing, thick and dynamic surface of paint. While painting, Koshkosh combines his love for tattoo and graffiti together with the knowledge coming from his studies at the Evangel Theological Seminary - Biblical Institute, and he often layouts his thoughts in text, providing a verbal connection to the works, yet freeing him from the urge to involve language directly in the process of explaining his artworks. Eventually, Koshkosh's palette is coming with a surprising range of night-dark greys and greens, unclean whites, and artificially-sweetened pinkish and purplish blues, with hints of acid sprayed yellows and greens: "Colors immerse you, and that immersion is what I want now. Color is everything, if properly talked about" says Koshkosh.

Throughout the show's three different augmented rooms, the visitors are invited to discover the paintings browsing the space - a mix of augmented reality architecture and features put in dialogue with the real world surrounding them – and participating in the show by taking snapshots of their favourite artworks, therefore creating a unique and ever changing virtual exhibition, taking place under the hashtag #koshkoshhyperborea
List of artworks - AR Room 1 ︎︎︎

"One KOSHKOSH for ONEROOM"
ROME ART WEEK
26 - 31 October 2020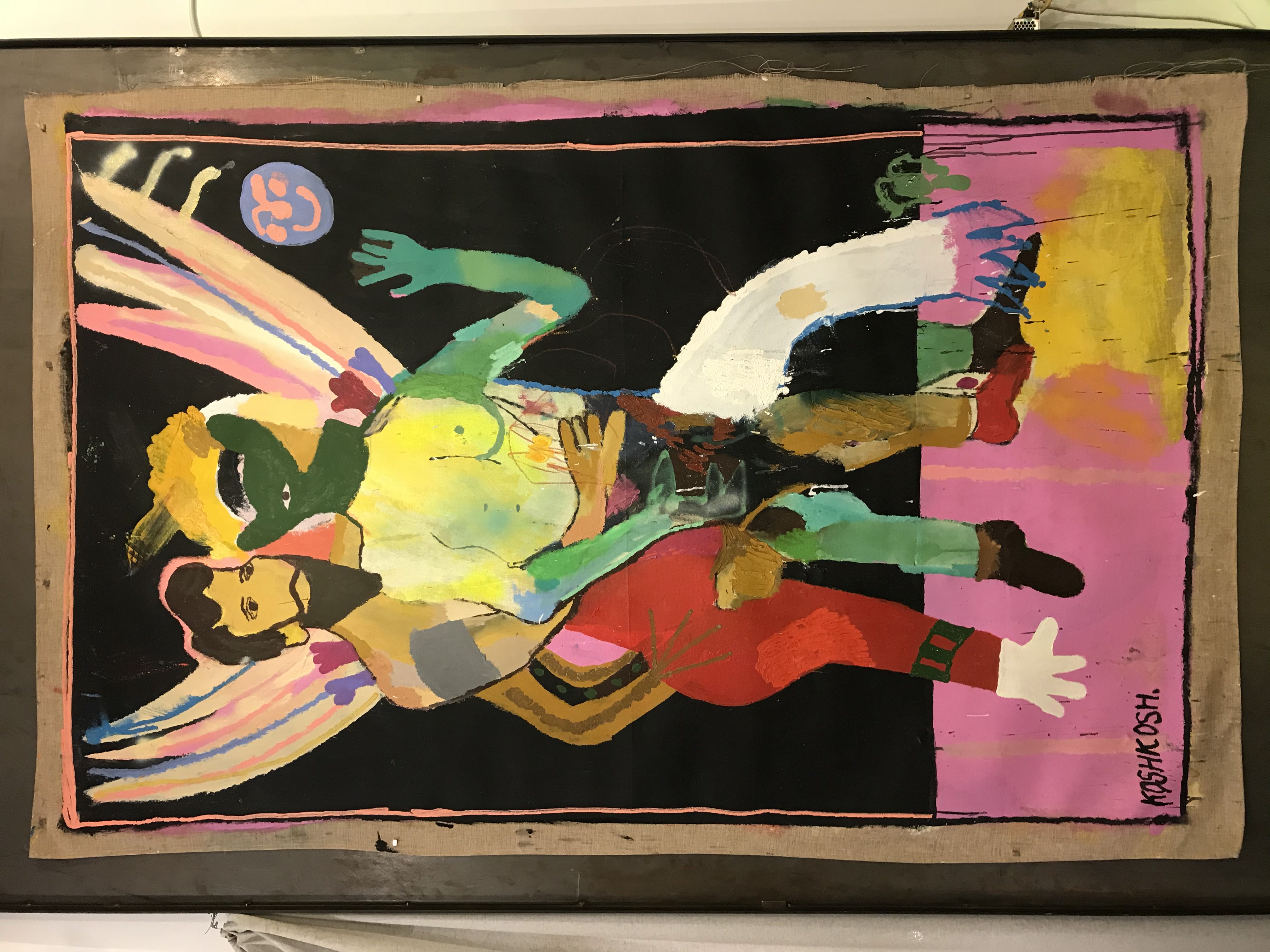 #koshkoshoneroom #koshkoshhyperborea #romeartweek


IT: ︎︎︎
Dalla realtà aumentata alla vita reale: il primo artista ad aver realizzato una mostra in AR utilizzando filtri Instagram ad hoc, espone una delle opere dallo show virtuale in occasione di RAW, nel centro di Roma.

Nichola Koshkosh è un artista emergente ucraino basato a Mosca, la cui peculiare capacità di catturare e tradurre lo zeitgeist in un linguaggio sintetico in profonda sintonia con il pubblico, gli ha recentemente guadagnato grande attenzione sulla scena internazionale. Koshkosh è stato il primo artista in assoluto ad aver tenuto una mostra di realtà aumentata utilizzando i filtri di Instagram: durante il lockdown la sua mostra personale 'HYPERBOREA' - un concentrato di evasione verso terre più felici e sognate, facilmente accessibile da qualsiasi luogo tramite smartphone - ha rivelato 15 dipinti appesi alle pareti virtuali di tre diverse stanze immaginarie, immediatamente celebrati da 'Vogue Russia' e dal cult 'The Calvert Journal'.

In occasione di questa edizione di Roma Art Week, un dipinto di 'HYPERBOREA' - per pura coincidenza intitolato 'Roma' - sarà presentato nel mondo reale alla ONEROOM Gallery, creando un'interessante sinergia tra uno dei più interessanti artisti della giovane avanguardia russa che si è ispirato a Roma, e una galleria fonte di perle rare per ogni amante di libri e fotografia, situata proprio nel cuore della Città Eterna.
Per vedere la mostra completa in realtà aumentata usare i filtri AR 'Hyperborea' disponibili sul profilo Instagram di @nicholaskoshkosh cliccando sull'icona delle 'stelle'.

Nichola Koshkosh (nato nel 1995, Mariupol, Ucraina) è un artista multimediale basato a Mosca che è rapidamente diventato uno dei volti più interessanti della "Russia moderna" - probabilmente uno dei segreti meglio custoditi della scena artistica russa - un ponte non solo tra Oriente e Occidente, ma anche tra Ieri e Oggi. Koshkosh non è un semplice pittore, e tutto il suo lavoro abbraccia diversi media: graffiti, tatuaggi contemporanei, progetti editoriali e fotografia, intrisi dei riferimenti provenienti dai suoi studi presso il 'Seminario Teologico Evangelico - Istituto Biblico'. Un vero e proprio anello di congiunzione fra categorie diverse. I suoi lavori sono stati pubblicati da Vogue Russia, L'Officiel Russia, Office Magazine (USA), La Repubblica (IT), TTTism magazine (UK), Brask Studio Visits (DK), KALTBLUT Magazine (DE), INRUSSIA (RU), The Calvert Journal (UK). Ha esposto a Mosca e a Copenaghen, e il suo ultimo artshow - HYPERBOREA - è una mostra virtuale accessibile tramite i filtri di Realtà Aumentata su Instagram, che apre la strada ad un pionieristico formato espositivo.

ONEROOM è un luogo piccolo e accogliente, totalmente dedicato alla fotografia contemporanea situato in Piazza dei Satiri 55, proprio nel cuore di Roma. Metà libreria, metà biblioteca con un po' di galleria e uno studio, il loro scopo è promuovere la conoscenza attraverso e sui cosiddetti "libri fotografici". La selezione di libri nuovi, insoliti e rari spazia da capolavori dagli anni Sessanta a nuove gemme nascoste autopubblicate ancora da scoprire, provenienti da tutto il mondo. Non solo una boutique per collezionisti, ma un luogo in cui essere ispirati e sentire come appare il mondo visto da qualcun altro.


---

ENG: ︎︎︎

From augmented reality to real life: the first artist to have created an AR exhibition using Instagram filters, presents one of the artworks from this virtual show on the occasion of RAW, in the very heart of Rome.

Nichola Koshkosh is an emerging Ukranian artist based in Moscow, whose peculiar capability to translate the zeitgeist into a synthetic language resonating with the public, recently earned him great attention on the international scene. Koshkosh has been the very first artist to ever have held an Augmented Reality exhibition using Instagram filters: during the lockdown his solo show 'HYPERBOREA' - a concentrate of escapism to dreamed happier lands, easily accessible from any place through a smartphone - revealed 15 new paintings hanging on the virtual walls of three different imaginary rooms, getting immediately noticed by 'Vogue Russia' and cult 'The Calvert Journal' among others.

On the occasion of this edition of Rome Art Week, one painting from 'HYPERBOREA' - coincidently called 'Rome' - will be presented in the real world at ONEROOM Gallery, creating an interesting synergy between the cutting edge best kept secret of Russia who got inspired by Rome, and the best hidden gem for every lover of photography books, placed right in the heart of the Eternal City.
To see the full show in augmented reality use 'Hyperborea' AR filters for Instagram stories available on @nicholaskoshkosh by clicking on the 'stars' icon.

Nichola Koshkosh (b.1995 in Mariupol, Ukraine) lives and works in Moscow. He is a multimedia artist who has quickly become one of the most visible faces of the 'modern Russia'- arguably one of Russia's best kept secrets - bridging with easiness between not only East and West, but also Then and Now. Koshkosh isn't just a painter and his practice spans a variety of media (graffiti, contemporary tattooing, publishing and photography) together with the knowledge coming from his studies at the Evangel Theological Seminary - Biblical Institute. He's a bridge builder between different categories. His works have been published by Vogue Russia, L'Officiel Russia, Office Magazine (US), La Repubblica (IT), TTTism magazine (UK), Brask Studio Visits (DK), KALTBLUT Magazine (DE), INRUSSIA (RU), The Calvert Journal (UK). Koshkosh has exhibited in Moscow and Copenhagen, and his latest show - HYPERBOREA - is a virtual exhibition accessible via Instagram Augmented Reality filters, pioneering this exhibition format.

ONEROOM is a little cosy place totally devoted to contemporary photography located in Piazza dei Satiri 55, just in the heart of Rome. Half a bookstore, half a library, with a bit of a gallery and a studio, their aim is to promote knowledge through and about the so-called "photobooks". The selection of new, uncommon and rare books span between masterpieces since the sixties to new self-published hidden gems yet to discover, from all over the world. Not only a boutique for collectors, but a place where to get inspired and feel how the world looks like as seen by someone else.